With this demo you will see how points map works on a desktop. Simply use the arrows below to follow the steps and then repeat the actions in the embedded section below th banner.
PointsMap Embedded
PointsMap can easily be embedded in your website and linked to your menu. It can automatically have a specified category selected and all the points in that category will be highlighted on the map. This allows you to embed PointsMap on numerous pages of your website under menu items like "Where to Eat", "Where to Stay" and "What to Do".
Below Is An Embeded PointsMap Desktop App
Here is a quick overview of some of the features you will have access to as an Administrator for your unique PointsMap. Note how easy it is to set up your new PointsMap with just a few clicks.
PointsMap is Easy-to-Edit!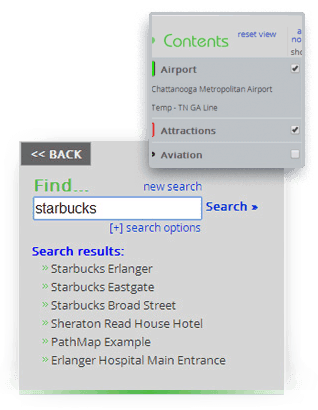 PointsMap Was Designed for You!
Users will find an intuitive interface waiting for them. They can easily find Categories or specific Points through the Table of Contents, or use PointsMap's Search Options to return all instances of a search term within that map. The process is as easy as filling out a form. Adding, editing, or deleting Points, Paths, and Zones is done with just a few mouse clicks. When visitors first arrive on a PointsMap, where their map centers, the type of map, the zoom level and visible Categories can be set. Keeping information up-to-date is simple and can even be done remotely with a tablet.