PointsMap is an online mapping program powered by the Google Maps API which allows Administrators to populate their unique map with points of interest, paths, zones, and more. Google POI's can be removed so the only points on your PointsMap are Points you add, making your PointsMap exclusive. While maintaining all of Google Maps' interactivity, PointsMap's interface gives Administrators a tool that is easy to setup and edit, keeping visitors up to date.
Points of Interest (POI), or simply Points, are locations filled with useful information and links. In their Detailed Information Window, points can contain multiple images, descriptions, web links, and PDF's. Our menu buttons offer a variety of functions including playing audio and video files. In short, each point can act as it's own mini website.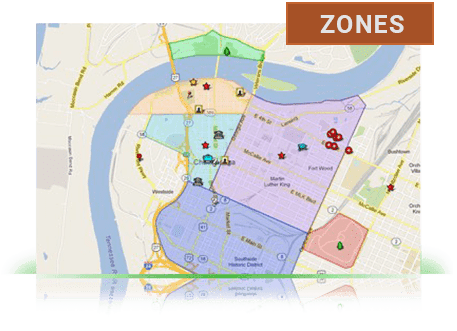 In addition to Points, maps can include Zones. These have all the functionality of Points, but cover an area rather than a single location, making it possible to designate parking lots, event registration, public areas, and more.
The Go Inside feature is designed to show the interior map of facilities. This feature can be added to any Point and allows the User to visit submaps, usually floor plans, that can be filled with their own Points of Interest.
Paths are essentially draw-able lines on the map. They connect to a Point and will display the Point's information. One of the main uses for this feature are custom paths. On the Street or Satellite Maps these paths could represent hiking trails, event routes for marathons, or parades, evacuation plans, and more.
Internal Wayfinding Directions
PointsMap offers optional Internal Wayfinding on Inside Maps allowing users to scan a code to see exactly where they are inside the building. The user can select a destination and our software will find the shortest route, draw the path and guide the user with easy to follow Turn by Turn Directions.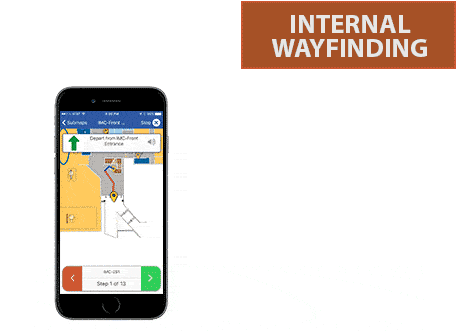 How PointsMap Works for You
PointsMap has unlimited uses. Dozens of different industries are currently using PointsMap, and features are still being added to improve and expand its capabilities. Watch our slide show below to see how PointsMap can showcase your event or conference.
Festivals • Medical • Education • Communities • Real Estate • tourism • Corporate • Economic Development • Military • Museums • Recreation • Sports • Tradeshows • Festivals • Medical • Education • Communities • Real Estate • tourism • Corporate • Economic Development • Military • Museums • Recreation • Sports • Tradeshows • Festivals • Medical • Education • Communities • Real Estate • tourism • Corporate • Economic Development • Military • Museums • Recreation • Sports • Tradeshows • Festivals • Medical • Education • Communities • Real Estate • tourism • Corporate • Economic Development • Military • Museums • Recreation • Sports • Tradeshows